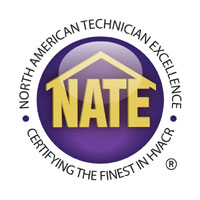 Is your AC system blowing lukewarm air? It could be low on refrigerant. Your evaporator coil—and the coolant inside it—is responsible for cooling all the air your unit puts out. Leaks can lead to low, or worse, no coolant, which will make it impossible for your system to do its job.
You can count on our professionals at Canyon Plumbing & Heating for reliable AC refrigerant leak repair. We have a team of fully licensed and insured HVAC contractors ready to serve residents in Boulder and the surrounding areas.
Our team has the expertise and experience to handle all HVAC equipment and can provide AC refrigerant leak repair with minimal disruption to your home.
We are also your go-to experts for other AC evaporator coil services. Call our team of HVAC experts to schedule service.
Common Causes of AC Refrigerant Leaks
Unfortunately, while a coolant leak can make your AC stop working entirely, there's not much you can do to prevent them beyond scheduling regular air conditioner maintenance. The most common causes of refrigerant leaks include:
Accidental evaporator or condenser coil puncture
Equipment wear and tear
Manufacturer defects
Pinhole leaks caused by formic eating the copper tubing
Poor installation
No matter the cause of your AC refrigerant leak, we can fix your equipment quickly to restore its function. If you suspect a leak, call our HVAC professionals at Canyon Plumbing & Heating today for fast and professional leak detection and repair.
AC Freon Replacement Services in Boulder
Both ductless and central air conditioners use a cooling agent commonly referred to as AC coolant or Freon to function. Freon, also known as R22 refrigerant, is the most common coolant on the market, but in 2004, the EPA also approved Puron or R-410A, which is used in some newer models.
At Canyon Plumbing & Heating, we offer coolant replacement services to keep your cooling system functioning correctly. Call our experts today if you suspect your coolant levels are running low for safe and efficient Freon recharge or coolant replacement.
You may also need AC filter replacement services. We can help with that too! Get in touch with our team to get started with proper maintenance.
Why Work With Us?
Our team at Canyon Plumbing & Heating has the expertise and experience to maintain and repair your HVAC equipment efficiently and safely. If there's an AC refrigerant leak, we'll be sure to find it and fix it.
We provide professional and courteous service, ensuring that we arrive on time, uniformed, fully-stocked, and with the job tools required. Trust us to provide:
NATE-certified and fully licensed technicians
Timely services
Transparent pricing
100% satisfaction