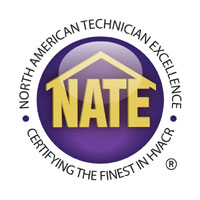 From a lack of airflow to constant water leaks, older air conditioners are usually more trouble than they're worth. If you have such a unit, getting it replaced might be the best move to beat the heat.
Our team at Canyon Plumbing & Heating is here for you when the time comes to install a new AC. With over 20 years of experience serving Boulder, CO, residents and business owners, we provide quality services that go above and beyond your expectations.
All our clients enjoy:
Friendly and experienced technicians
Fair and upfront pricing
Timely arrivals
If your AC is still relatively new, having it repaired might be the better option.
When Should You Get an Air Conditioning Replacement?
The average air conditioner lasts between 10 to 15 years with proper maintenance. Any older than that, and you'll frequently feel the effects of wear and tear.
As with any machine, an AC runs less efficiently as it ages. Your monthly utility bills might start spiking because your unit will require more and more energy to maintain the same level of cooling. Older air conditioners are also more prone to breaking down, leading to frequent and costly repairs.
As a leading local AC contractor, our team always offers solutions that will save you money in the long run. We won't recommend a replacement unless it's in your best interest.
The Benefits of AC Replacement
Equipping your home or business with up-to-date cooling technology has great perks that you might not be aware of:
Increased Comfort: With better and safer cooling mechanisms, a new unit can cool your rooms much faster and maintain a comfortable temperature throughout the day.
Enhanced Air Quality: Aside from keeping rooms cool, air conditioners can also keep your indoor air clean. The latest models offer superior air purification, humidity control, and even auto-clean functions!
Improved Durability: A new air conditioner installation can withstand wear and tear much longer than obsolete units. With regular maintenance, modern ACs can last up to 20 years before needing a replacement.
Significant utility savings: A modern AC requires less energy to use because it runs more efficiently.
Need to better prepare for winter? We also offer quality heater installation to keep your home warm and toasty!
Why Choose Canyon Plumbing & Heating?
Given the countless options available, choosing an air conditioner can be challenging, but we can make the process easier. If you're looking to replace your unit, we can visit your property, assess your layout, and recommend the best model to meet your needs and fit your budget.
Our HVAC technicians won't rest until you're satisfied with their work. Whether you need a window-type, ductless, or central AC installation, rest assured that your new unit will keep you comfortable during the hot summer months.